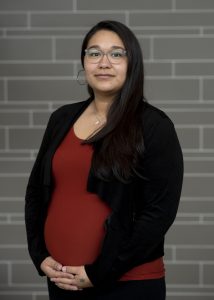 Yesenia Oviedo, CMA
Medical Assistant
Yesenia was born and raised in South Texas. Fourteen (14) years ago, she and her husband moved to Sylva, NC for better work opportunities. Her mother and grandparents are from Northern Mexico. Yesenia has a large family (5 kids, 5 dogs, & 2 cats), which has taught her to have patience and understand others' opinions. She received her Associates degree at Southwestern Community College in Sylva, which enabled her to work in Cardiology as a Certified Medical Assistant. Before the CMA jobs, she worked at a nursing home for several years as a Certified Nurse
Assistant.
Yesenia's work and life experiences have enabled her to have great medical knowledge and be very patient. It has also helped her better understand patients and how she is able to help them. She is grateful to work with Vecinos because it will give her the opportunity to contribute to the Latinx community and learn new things from the people that she will be helping. Another reason why she chooses to work for Vecinos is because it enables her to work around her family's life and be there for them when needed.
FUN FACT: Yesenia has a collection of Starbucks cups (almost 30 cups!) and likes to watch Anime.