Working together creating health access opportunity for our communities in need in WNC
By Yolanda Pinzon Uribe
Community Health Program Manager
Vecinos
With the idea to go through Covid19 transition to Chronic disease as the biggest risk factor for hospitalization and deaths of Covid19, We did our first step with Cherokee and Jackson Public Health Departments and the Community Care Clinic Highlands and Cashiers to see where do we go from emergency response, What we can do together and continue touch the life of our people in need, to continue to strengthen the relationships created during the pandemic with both communities and our network partners. In that moment, the SMC – Screening Mobile Clinics caming a live in Western North Carolina.
This last April we started with our first Screening Mobile Clinics – SMCs. April 26 in Cullowhee,
Jackson County at River Park Community and April 28 in Highlands at the Community Center.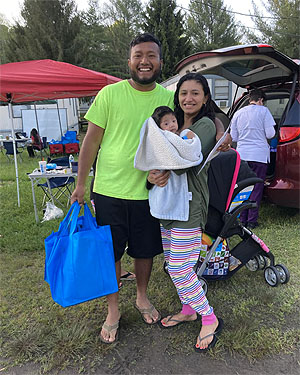 River Park, Cullowhee, Jackson County April 26th – We reached 58 individuals, 10 individuals vaccinated 5 of them first doses provided by Mako and Vecinos. We had an amazing team with Jackson County PHD doing 28 glucose tests, 20 families assisted with food helping more than 60 individuals; 3 families in WIC. WNC school nurses did vital signs and anthropometric measurements to 50 individuals and visual screening to 30 individuals. More than 40 of the people who participated in the screening clinic did Health Education with Vecinos' team and 10 did mental health screening with Alianza.
We are happy with the outreach that Vecinos' CHW and Unete did and very proud of the work we did with our network partners organizations and JCPHD. but it is nothing in comparison with the lovely enthusiasm and reception from the River Park community. These communities need our support and I am glad to say… "!Hey we are here for you..!"
Highlands, Community Center, Macon County April 28th – This Screening Clinic was different. We did not do it in a neighborhood, we did it at the parking line of the Community Center next to the Community Care Clinic Highlands and Cashiers that was on duty that day.

The idea was to get the people who work in Highlands hust when they finish their job and also do immediate referrals to the CCC in case we need it, and that works good, different in the way that the people still need to go to us in some way but good in terms that the Community Care Clinic is a very familiar space for the community in Highlands and the Latinex Community who works in Highlands.
We reached 25 individuals, 14 individuals vaccinated by Mako (all boosters). WNC school nurses did vital signs, anthropometric measurements and glucose tests to 21 individuals, 4 of them were referred to the CCClinic and they had the attention they needed there; and about 16 visual screenings. 25 individuals assisted with food by International Friendship Center; Everyone passed for Health Education with Vecinos' team and also ,10 did mental health screening with Alianza.

We learn a lot, and we are very excited to continue doing screening clinics around our counties, and provide as much services as we can to the communities in need, detecting Chronic Disease as risk factor of Covid19 to be hospitalized or death for Covid and give the people the opportunity to have access to the care they need through the free clinics.
Our plan for the next Screening Mobile Clinics:
1. TUESDAY MAY 17th – FRANKLIN
From: 4pm to 9pm
At: Bateman Park Rd Franklin area
With the support of the Community Health Clinic Franklin and WCU School Nursing
2. SATURDAY MAY 21st – ANDREWS
From: 11am to 5pm
At: Santo Nino Mexican Store 144 Main St suite 3 & 4, Andrews, NC 28901
With the support of the WCU School Nursing
3. MONDAY MAY 23rd – CASHIERS
From: 4pm to 9pm
Episcopal Good Shepherd 1448 Hwy 107 South, Cashiers NC 28717
With the support of the Community Health Clinic Highlands and Cashiers and WCU School
Nursing
4. TUESDAY MAY 31st – TUCKASEEGEE
From: 4pm to 9pm
At: Apartments next to the Dollar General
With the support of the Community Health Department of Jackson County WCU School Nursing